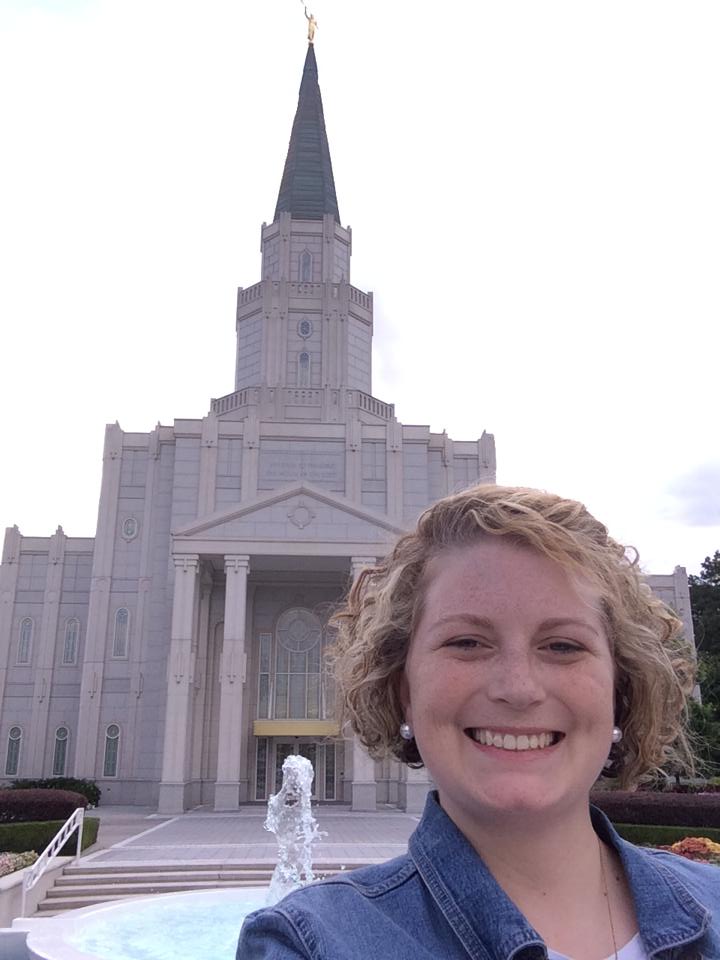 Many of us met Andrea at an LFS conference in Boston a few years ago. She and her mother Kim are well known within our Li-Fraumeni Syndrome support community. They are also known as having a particularly rough journey, even for mutants. Shortly after that conference, Andrea travelled between multiple hospitals, in search of a diagnosis for what would be her 4th cancer. When her AML relapsed, Andrea aware of the odds, faced treatment and death with the same grace and faith she approached life. When the time came Andrea "crossed the veil peacefully and joyfully" on May 11, 2016 at the age of 28.
Andrea could take the toughest tough situation and make it better, whether it was brightening someone's day with an cake decorated entirely with oreos, sharing contest winnings with a fellow contestant or just spending time cheering someone on. When diagnosed with her 4th cancer, the same type of leukemia that eventually took her family members, she began to blog about it. She showed us step by step how to take lemons and turn them into Pink Lemonade Cupcakes.

Andrea found the good and meaning in the tough times while remaining realistic. When the good times were easy and present or when they were elusive, she held fast to her faith and trust in her Lord. She was a positive, loving,  gracious, adventurous woman and friend. Yet among all of her relationships, the most important were family. Each day was a gift to help serve others and she fulfilled this role faithfully as a daughter, sister, wife and mother. We thought the best way to honor Andrea is with her own words, words that show her strength, her insight and the generous, faithful person she was.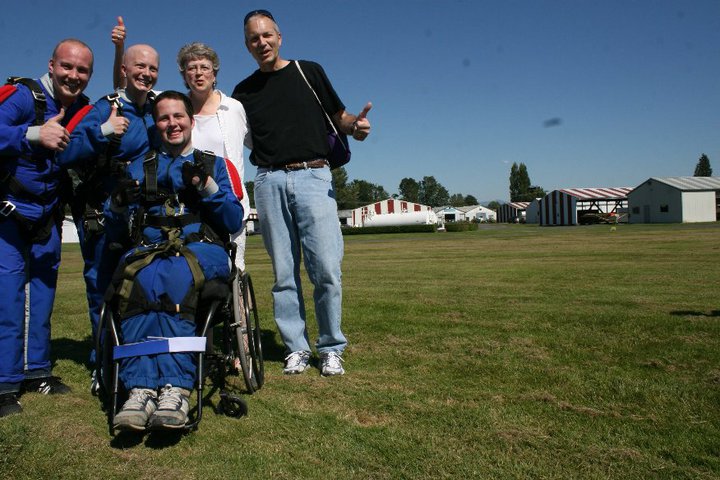 FAITH
Anyone who met Andrea, knew how important her faith was to her and that it carried her family through some seriously trying times. She had faith in her lord, she had faith in what was to be and faith that her purpose here was to help others. She did this daily. She often praised her husband for his faith in her and them as a team. Together they became foster parents.
The Lord is giving me this trial to show that He loves me and is control and will protect and spare me, if I but trust in Him. I want to clarify that I don't think I am more or less faithful than any of my other family members by saying this. I know that the Lord will never take you before it's your time to go. He will not take you because you lack faith or because you have misbehaved. I say this because it's been a testament to me that my work on Earth is not done. Perhaps there are more children who need us to provide a safe home and loving arms for them that only we can provide… whatever the reason, I trust that Heavenly Father will help to guide me as I let Him and together we will get it done 🙂 I love being an instrument in His hands. I LOVE SERVICE.
TRUST
Andrea trusted her faith and that there was a plan to the suffering. It didn't make the suffering easier, but she trusted that in time she would understand. One of the foundations of marriage is trust. She often remarked at how wonderful her husband Brian was, to take her on knowing what they were up against. She was in treatment and times were uncertain, yet at times like these Andrea had faith and trust that there was a plan. Her plan included marriage and children. The path was not always direct, but when you trust in the destination, she knew the means weren't as important. As she and Brian got ready for marriage, friends entered them in a contest to help with the wedding expenses. The competition was steep, but Andrea immediately befriended the other contestants, sharing stories and wedding plans. When she and Brian won the contest, Andrea gave a portion of her prize to another contestant, so that she too could have the dress of her dreams for her wedding.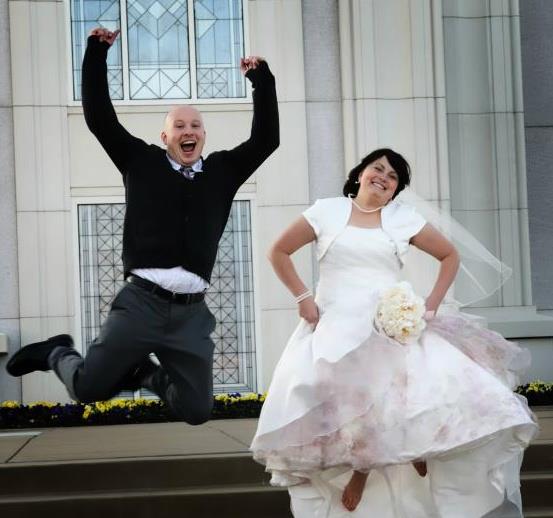 Through this bout with leukemia, I've come to know, without a shadow of a doubt, that Heavenly Father loves me. He knows me. Personally. He is in the very minutes of my life. He cares about every seemingly trivial thing. Everything He allows me to go through is for my good. Everything I go through, I wouldn't have to go through if there was no point. There is a plan. Sometimes I get glimpses of it. 99% of the time I just have to trust.Although I've hit this wall, I'm starting to climb it. Christ is there for me every step of the way. 
PINK LEMONADE CUPCAKES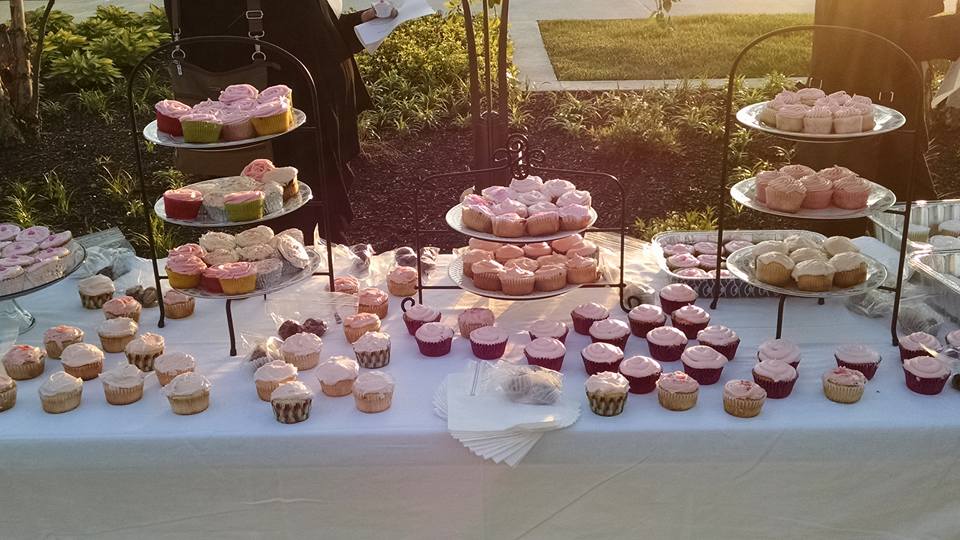 When you live with LFS, it's so easy to question. It's easy to feel alone, that even those closest to you don't even understand. When you're always getting sick, whether it be cancer or illnesses due to your weakened immune system, it's easy to start feeling like this is your life. It's easy to feel like there is no relief in sight. No real relief, at least. You have periods of time when you get a "break", but even during those 'breaks" you begin to feel like you are always waiting for the other shoe to drop. Every headache, you think "Is it a tumor?" 
Andrea knew that life was a gift and found happiness in helping others. She showed others how to give, how to love and inspired everyone who was fortunate to know her. During one particularly grueling hospitalization she missed many events, including a young friend's birthday. He loves her homemade bread and she had promised to make him a batch, so as soon as she was discharged and home, she hugged her littles and set about making bread to take to her little friend just days after being in the hospital.
Service helps a lot. I love love love service. It takes my mind off of me and my problems and turns it outward. And it never has to be anything huge, just a smile here and there, meeting new people, complimenting a nurse on her scrubs, ets…. But honestly, just complimenting someone and seeing their face light up, helps to brighten my day. 
Andrea's Celebration of Life was truly a celebration, she would not want to be the cause of sadness. In honor of her love for baking and at Andrea's request to have her favorite dishes at her memorial, her mother Kim asked if a few friends might want to assist in baking pink lemonade cupcakes for the service. The offers poured in, each one offering help and sweetness in this time of sadness. Friends from around the world also baked cupcakes in her honor and in that way Andrea continues to give even after death. Because out of the bitter lemon of this loss, she gave us the recipe to carry on and make pink lemonade cupcakes.
Recipe for Pink Lemonade Cupcakes
Prep Time: 15 mins Total Time: 35 mins Serves: 18, Yield: 18 cupcakes
INGREDIENTS
12 teaspoons pink colored crystal sugar (make by adding red food coloring to sugar)
1 (18 1/4 ounce) package white cake mix
water (amount based on cake mix instructions)
3/4 cup thawed frozen pink lemonade concentrate (undiluted)
1 tablespoon grated lemon peel
DIRECTIONS
Preheat oven 350°F.
Line cupcake pan with cupcake liners and Spray each with vegetable pan spray; sprinkle 1 teaspoon colored sugar into each cupcake-space in the pan.
Add water to pink lemonade mix to total amount of water called for on cake mix package directions.
Follow cake mix package directions to prepare cake, adding grated lemon peel.
Portion into prepared cupcake pan with liners using spring release ice cream scoop, if you have.
Bake 20 minutes or until toothpick inserted comes out clean.
Cool 10 minutes in pan on rack; remove and cool completely before decorating.
© 2016 Scripps Networks, LLC. All Rights Reserved. http://www.food.com/307473
Pink Lemonade Buttercream Frosting
For the buttercream:
1 ½ sticks or 12 ounces butter, at room temperature
3 ounces cream cheese, low fat, at room temperature
1/2 cup frozen pink lemonade concentrate, thawed
grated zest and juice of 1 lemon
2 boxes(1 pound each) powdered sugar, sifted
2 drops red food coloring, if desired
Pink Lemonade Buttercream Frosting Directions
In a large bowl, with electric beater on high, beat butter and cream cheese until fluffy. Reduce speed to low and beat in powdered sugar alternately with lemonade and lemon juice until smooth and creamy. Beat in the grated zest and food coloring until well combined and light pink in color.
~ This recipe makes a generous portion of icing, probably more than you need for these 18 cupcakes. Unused buttercream can be stored in the refrigerator in an airtight container; let it come to room temperature and then give it a quick whip in the mixer before using.
Andrea's Post about LFS- Let's Be Real