$3,947.58. That's how much money went into the Li-Fraumeni syndrome (LFS) community, thanks to everyone who chose Living LFS as their Amazon Smile charity. We are so grateful!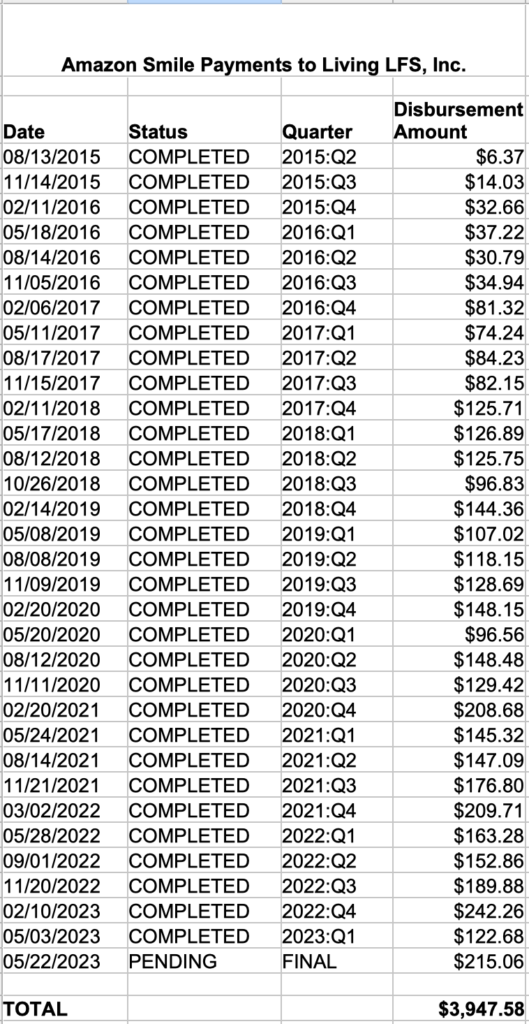 Amazon has now ended the Smile program, and Living LFS will no longer receive these "passive donations" each quarter.
The beauty of the Amazon Smile program was that it didn't cost any extra to donate. When you set Living LFS as your Smile charity, a percentage of all your eligible purchases automatically went to Living LFS and you didn't pay anything additional. As shown in this spreadsheet, those donations by our supporters really added up over time.
Amazon says they're focusing on programs with greater impact, but Smile had a great impact on LFS families, and those families still need our help.
Anyone living with cancer knows how expensive it can get, but with an inherited cancer syndrome like LFS, a Mother and child may be in treatment for cancer at the same time, and Dad can't work because he has to care for them. The financial challenges can be insurmountable.
Please help us fill the gap left by Amazon Smile. Your donations to Living LFS, large or small, and recurring monthly donations of any amount, fund LFS Hardship Grants every March and October for those in need.
Donations also make our Family Camps possible, where we bring those with LFS and their families together to meet, bond, and learn to manage the psychosocial aspects of living with Li-Fraumeni syndrome.
These programs are especially important for the kids in the LFS community, shown above at the 2022 Living LFS Family Camp.
Thank you for supporting Living LFS' mission to encourage, empower, and educate those living with Li-Fraumeni Syndrome by connecting them with care, resources, and others who are Living LFS.
Thank you!