Brian Ries- No Matter the Odds, Keep Fighting.
About a month ago, I reached out to the support group to see if anyone was willing to share their story of childhood cancer with us here. Brian replied right away and sent me several photos from his first battle with cancer, Rhabdomyosarcoma when he was 9 years old. He also included a few recent pictures and I was immediately struck by how much his son looks like him. We chatted by messages back and forth about this, about his new diagnosis, treatment and how many unknowns there were with cancer. But as a child, he was told he wouldn't survive and yet he did. He knew from then on that anything is possible. Brian joined our support group only a few short months ago, but in that time became a beacon of hope and spirit. His positive attitude was contagious and much appreciated in a group plagued by cancers.
Brian and his wife, submitted by Brian.
I knew the prognosis for this recent cancer Brian faced wasn't good because he told me. Brian was not one to even consider the odds and he is a fighter. Every person's experience with cancer is different. As a survivor of childhood cancer, Brian knew what that battle was about. He knew the enemy. He faced it armed with a positive attitude and a fighting spirit. To win is not to necessarily beat cancer- but to fight cancer on your terms. Brian did that. When his sister Brandy posted to let us know that Brian passed, it profoundly affected the group. He may not have been in the group for long, but he made an impact. He showed us that positive attitude makes a difference and his positive presence will be missed. Brian beat the odds many times and yet he was still taken too soon. Here is what Brian had to say about Living with LFS.
A young Brian, his parents and sister Brandy
From a recent study we found out that my family has a mutation. My genes included. I myself have had Rhabdomyosarcoma, Basal cell cancer, vestibular schwannoma and now Peripheral T-Cell Lymphoma. Not bad for someone just turned 37. Let's get the history out of the way. At 9, Rhabdomyosarcoma, was deemed terminal, glad to prove them wrong. 3 years ago basal cell minor skin cancer, no big deal. 2 years ago vestibular schwannoma brain tumor. Wasn't the worst or the best to have. Completing my circle now with a rare, deadly lymphoma... Peripheral T-Cell Lymphoma with characteristics of Leukemia. The add on with the leukemia is because it is more aggressive than normal and acting as leukemia at the same time. Though, didn't let cancer win in past, sure the heck planning to not let it win this time. At minimum, I'll give it a fight it won't forget! After participating in a study, found I have gene issue too. Li-Fraumeni Syndrome. Answers a lot of questions there. Stems from my fathers side, he died from Glioblastoma in 2001 and on his side, tons of cancers. Though for just turning 37, I've piled up a heck of a list just myself. Pleasure to meet you all and look forward to cheering and encouraging as people take on their battle with cancer. No matter to odds, keep on fighting!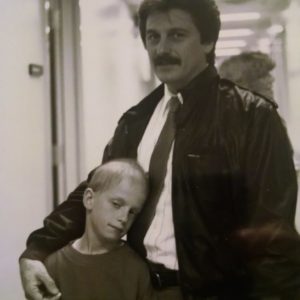 A young Brian and his dad
Sometimes you just need to log in and say "Cancer, be prepared for the fight of the century!". Remember, no matter the odds or statistics, those are just numbers. Every fight is different, keep up the good spirits while fighting! I'm a firm believer that attitude helps!
Getting treatment
My current cancer situation has gone pretty crazy. Month ago was hospitalized for over a week, was actually told only had couple days to live. Been in hospital another week, hoping to be released Friday. They've determined my problem is I have 2 types of rare cancer this time, which is why they had a lot of trouble treating, because it is actually two. Both rare nasty types, T-Cell Prolymphocytic Leukemia (T-PLL) and Peripheral T-Cell Lymphoma (PTCL). New game plan is 2 types of chemo, one for each cancer. Just wanted to remind people that no matter what they think, keep fighting. Not going to deny, this is my first cancer/tumor battle since my brain tumor (I've had technically 4 cancers now and a brain tumor) but the thing to never do, never give up. Though I have good inspiration from a person I met online that had the T-PLL and is currently getting ready for stem cell transplant.
Technology today allowing us to share stories and life experiences, especially with people with alike situations (our lovely mutation). Enjoy this day and age and utilize others to help you keep fighting when needed. Technology is great and since my brain tumor, I can see huge difference in how its helped me. With today's technology, nobody is ever alone and even rare things, can find people to help you through. It's great! For those fighting, keep up the good work! Best wishes to all mutants (and regular people too) . - Brian Ries
Our condolences go out to Brian's family and friends at this time. He will be remembered. If you would like to send a message to Brian's family or follow along with updates of how they are doing, there is a page dedicated to him on Facebook- Help Brian Ries:
Help Brian Ries Facebook Page