In April 2018, Living LFS awarded 14 travel scholarships to members of our support group to help them attend the LFSA 2018 REACH International LFS Symposium at SickKids Hospital in Toronto, Canada.
These scholarships were provided by years of fundraising through T-shirt fundraisers and generous donations to our Friends of Living LFS program.
Linda and Doug Zercoe were Pathfinder donors, providing a $500 scholarship for one of our members.
Linda, a huge supporter of Living LFS, penned the heartfelt memoir A Kick-Ass Fairy in 2013.
Linda shared intimate experiences of her journey through multiple cancers and LFS diagnosis. Although Linda wanted to be at the conference in person, treatment for her latest bout with cancer made that trip impossible. Yet, in true Kick-Ass fashion, Linda generously wanted to make sure another member could partake in the benefits of learning about LFS and being around others who get it.  The scholarship became The Kick-Ass Scholarship. Given to the member who exemplifies warrior status, tough of the tough and someone who inspires others to live their best life by kicking cancer's ass.
The 2018 Kick-Ass Scholarship was awarded to a support group member who has and continues to face the challenges of multiple cancers, their treatments and long term effects with strength, grace, and a whole bunch of hilarity; our friend Row. She inspires all of us daily with her tenacity, humor, and absolute love of life. Where Row goes, there are shenanigans and Toronto was no exception- to the delight of many support group members. Her mere presence was a boost to all and her demand that we finish our long week of learning with a trip to the novelty ice cream parlor, The Poop Cafe epitomizes why she was this year's recipient of the Kick-Ass Scholarship. When life gives you poop, go out for ice cream with friends.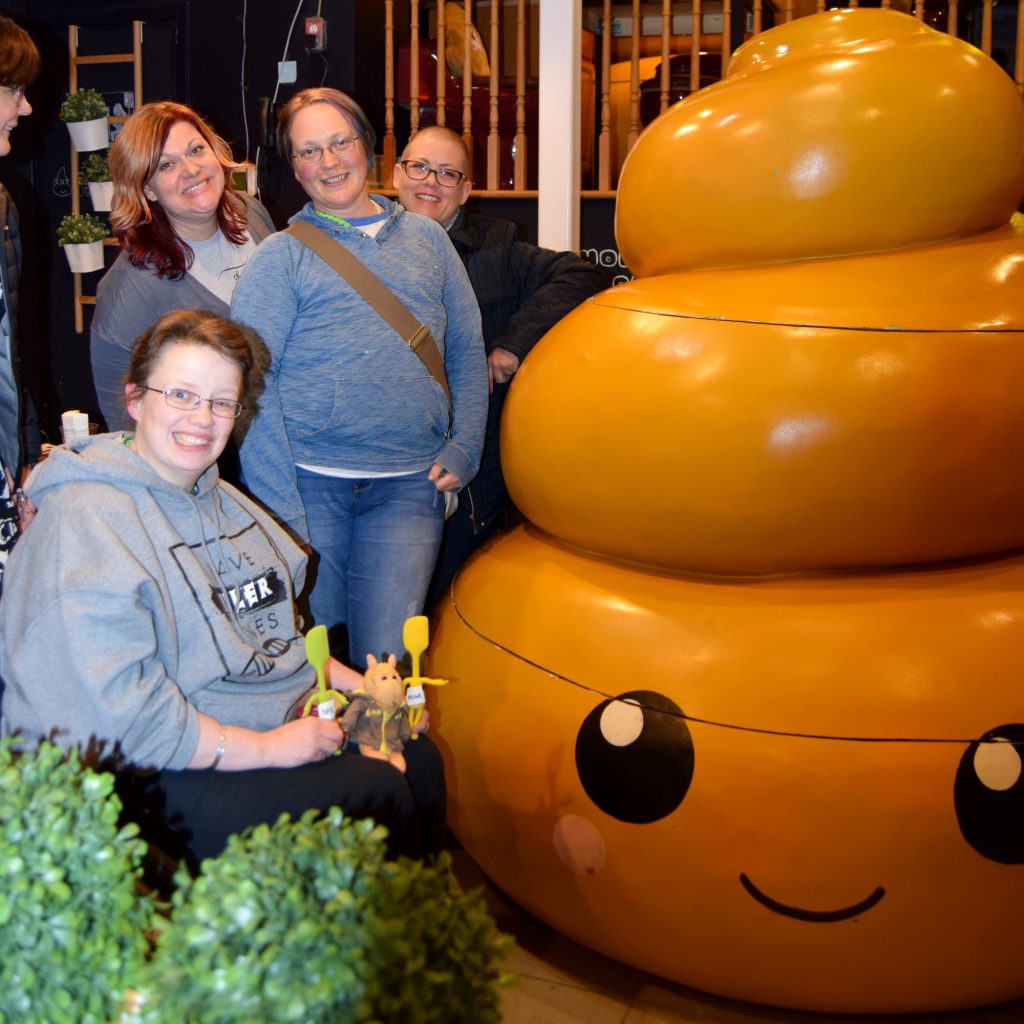 I have had the most wonderful experience over the last 10 days. The LFSA conference was intense, informative and provided me with so much hope for now and the future. This is priceless!

The friends I have met all over the world from online posts to being REAL human beings has made me speechless of just how amazing this really has been. Outside conference I have laughed, laughed and smiled some more. Spent time and shared love, craziness and feelings with friends who truly 'get it' is just WOW! I've ticked off bucket list items by the bucket load!

None of this would have happened without a wonderful, generous Kick-Ass scholarship from Living LFS provided by a very very special lady Linda. So thank you all for being part of this wonderful 10 days. I've had a ball! 💖💖
Linda and Row are sources of strength, support, and inspiration and remind us how fun it is to LIVE! AS Linda told me,
kicking cancers ass is not always in our control. Living our best life while trying or in between is. Raising children, being a friend, etc. is living.