The LFS community is extremely rare. We have a rare hereditary cancer syndrome with increased risk of all kinds of rare cancers.  In our support groups, we share jokes about some of the hurdles we run across and support each other. We celebrate the ups and share virtual hugs for the hard times. We confide information about our health, LFS, and research opportunities. You can not put a dollar amount on the support that is provided.We are generous with our time and our resources, which are both often in short supply due to cancering- the art of dealing with cancer on a family level.
We ENCOURAGE, EMPOWER, EDUCATE and CONNECT those with LFS. We connect them with each other for support, to care centers that are familiar with LFS and resources that can help them live their best lives. One of the resources we feel very strongly about bringing to our community are clinical trials and research studies. There is a study currently in progress that is looking at the diabetes drug metformin and if it has a possible anticancer benefit in people with LFS. This is a groundbreaking chemoprevention study for our group. Please read more about the Metformin study in the blog post  Metformin Clinical Trial for LFS.
You would think that in families who spend a disproportionate amount of time in hospitals and seeking care for cancer, the last thing they would want to do is participate in a medical study. But you would be wrong- this is another way that our group is rare, their dedication to others and trying to make the future better. We may not be able to cure LFS yet, but studies like this are a great step towards longer, healthier lives for those with LFS. Many want to help, but are in treatment and not eligible for the study. Others cannot afford to make the trip to the NIH to do the study every 6-8 weeks for 4 visits. We want to help with this.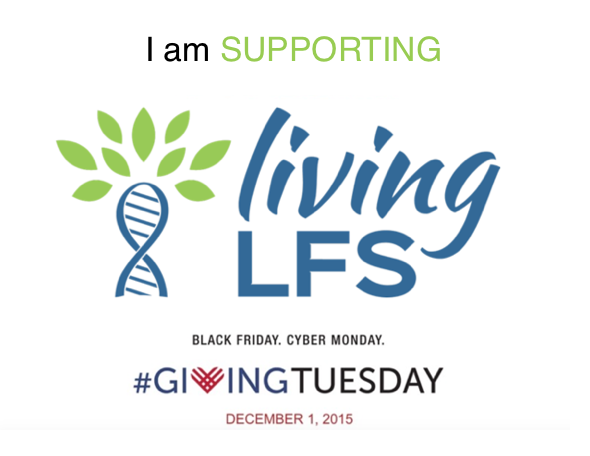 Living LFS would like to make sure that everyone who wants to participate in studies like this can, so we added a new way to GIVE on our website. Under the DONATE page, you can select the specific fund box, then the TRAVEL SCHOLARSHIP FUND. Donations for travel scholarships will be awarded those enrolled in the NIH Metformin study to help defray the costs of travel and lodging. In the future, with enough support we hope to be able to offer scholarships for a much wider range of needs.

Today is #GivingTuesday, an initiative started to encourage businesses, families, organizations around the world to give back. There are no restrictions- JUST GIVE. Check out more about this movement at

Consider giving to Living LFS today and help us work towards a cancer free future. For every donation given to the travel scholarship fund on #GivingTuesday, Living LFS will give a matching amount towards travel scholarships.
DONATE NOW to LIVING LFS TRAVEL SCHOLARSHIP FUND
Thank you so much for GIVING and helping us LIVE LFS.