by Ann Ramer
I had the opportunity to visit with Dr. Mark Robson this week when I travelled to NYC to follow up with my son's orthopedic surgeon.  Along with Dr. Ken Offitt, Dr. Robson is the Principal investigator at MSKCC for a collaborative genetics study.  Also participating are Dana Farber (Dr. Judy Garber), The Mayo Clinic (Dr. Fergus Couch),  Penn Medicine (Dr. Susan Domchek)
PROMPT stands for Prospective Registry Of MultiPlex Testing.  As technology advances particularly in the field of genetics, two things have happened in tandem.  The costs of doing genetic testing have come way down.  Consequently, more people are being tested and have access to their genetic information.  Most would think that this is a good thing, having more information.  However, it is often difficult to interpret what this information means, about specific genetic mutations in a patient.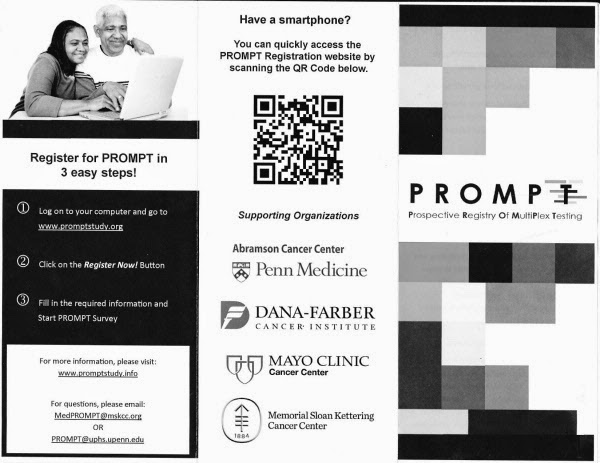 A consequence of this, especially in our own community, is that many patients receive information that they do not understand. Sometimes, this is because genetic testing was ordered by a practitioner who cannot interpret the results.  Genetic testing can be ordered by any physician. Some people even seek out this information on their own.  Genetic counselors are best able to interpret your results and offer advice on risk management.  Often, they know that a particular mutation is likely linked to a cancer and to what type (BRCA comes immediately to mind).  Even in LFS, for example, there is a common mutation in the Brazilian population (R337H) associated with breast cancer and a higher penetrance of adrenal cancer. This is useful information. If someone is found to have a known mutation, they could be empowered to undertake specific screening in order to catch it early, or have procedures that would limit risk. Oftentimes, however, mutations are referred to as VUS, or Variants of UnknownSignificance. Genetic testing may detect a mutation, but it is unclear if this implies an increased risk for cancer. As participating genetics labs discover VUS, they will refer patients to the PROMPT study.
Especially within the context of LFS, the implications of our TP53 mutations are widely varied.  The goal of the PROMPT study is to understand what conditions some of these VUS are linked to, and determine if there is an associated cancer risk.
Phase one, currently underway, asks that you fill out an online registry, which I did this fall.  The survey was not too time consuming.  The very friendly research coordinator, Pragna Gaddam then called me, asked me to submit copies of our genetic testing results and to answer some questions on the phone.  No travel is required.
In Phase two, which is rolling out in the next several months, researchers hope to obtain saliva samples from participants which could be mailed in.  They plan to do some deep analysis to see if they can find differences in genes other than TP53 that might explain why different families have different patterns of cancer. Most exciting for me, what they learn or the conclusions that they arrive at will be shared with the relevant participants. 
So, for example, if my mutation is identical to another family who happens to have a bunch of colon cancer, I would be informed of this fact so that I might step up the screening for my kids and begin scheduling colonoscopies a bit earlier.  The information is potentially actionable.
These respected institutions are working together and although the registry is only offered in English at this point, they are open to helping patients from anywhere through this study.
When I met with Dr. Robson, we spoke at length about many of the challenges that come with Li-Fraumeni.  I shared with him about the isolation that patients experience with a LFS diagnosis, and how we have incorporated our non-profit Living LFS to offer support to each other online.  He was glad to hear of it, and puzzled over what role hospitals might have in encouraging the development of support organizations like ours, for other syndromes.
Relative to LFS, Dr. Robson noted that some patients considered opting out of chemotherapy due to theoretical concern about a chemo induced leukemia. He was very curious about how many LFS patients that completed chemo, actually went on to develop leukemia.  He hopes that this registry and study might eventually help answer these sorts of questions, which could help better guide patients and inform practitioners.
I indicated that although we have not had many discussions about leukemia in the group, there was much talk and concern about radiation. I shared our common philosophy of "battling the shark closest to the boat" meaning that sometimes, we do not worry about the distant shark of leukemia or radiation induced sarcoma, and simply battle the current cancer, which is the most immediate threat.  I believe that he rather appreciated the analogy.
And I think that I introduced him to our slightly snarky perspective.
I am so grateful for the work that these institutions are doing together, and for the time that Dr. Robson set aside to speak with me.
If you are interested in learning more about the PROMPT study or want to enroll, you can click the link below)
For questions, Please email:
MedPROMPT@MSKCC.org
or