On the evening of October 25th, over 100 family members who live with LFS met to share stories and relate to this tough journey over dinner at the Inn at Longwood Medical. Dinner was graciously hosted by the Li Fraumeni Syndrome Association and sponsored by Myriad Genetics Labratories .  Families and friends gathered around round tables-  placecards set out to ensure each table had an assigned LFSA board member on hand to answer questions throughout dinner. Each family member was given a bag containing their name tag, the Agenda for the next day's conference as well as a blue LFSA notebook with pen to exchange numbers with new friends or take notes. There was laughter, tears and new friendships found.  Linda Zercoe sat by a table sharing her story too, proof of her journey with LFS and her memoir- A Kick-Ass Fairy lay neatly beside her.  People gladly paid their own way from all over the United States and Canada to share in this community and opportunity graciously organized by LFSA.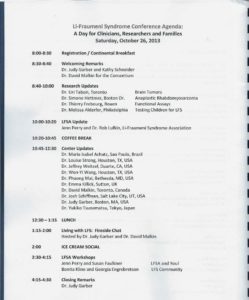 Early the next morning, families walked through the brisk fall morning from the Longwood Inn to Yawkey Center for Cancer Care at Dana Farber. Everyone mingled over pastries, fruit and coffee anxiously awaiting news on the LFS research. Dr. Judy Garber, leading breast cancer and hereditary cancer specialist at Dana Farber opened the conference with a warm welcome and emotional tribute to her mentor, Frederick Li whose could not be there due to failing health.
David Malkin then took the floor. The Dr. Malkin of Toronto Protocol fame- and had some very exciting news about future plans for annual conferences! Mark your calendars- in pencil, like any plans when one is living LFS- but the tentative dates are October 17-18, 2014 in San Diego.  Everyone also has time to get their passports in order as the plans for 2015 are for a 3 day conference during the month of  May in Toronto. In 2016- beautiful France will be the backdrop for that year's conference. Dr. Malkin's passion and candor for the p53 research and community was evident and very much appreciated.
Due to time constraints of the meeting, each presenter had about 10-15 minutes to review their research and give updates. It was very fast paced and technical, but there were several morsels of very exciting information and much evidence of many groups collaborating and working hard to further research and hope of treatment for p53 mutants. Below are the links to the webcasts with summaries of the speakers. I will break up the exciting concepts and try to translate some of the technical speak in future posts by subject!
Part One-Webcast
Welcoming Remarks, Updates
Drs. Judy Garber and David Malkin
Dr. Uri Tabori from Toronto spoke about brain tumors and mutant p53.
Dr. Thierry Frebourg from France spoke about new tests for p53 and various mutations.
Dr. Melissa Alderfer from Philadelphia spoke about testing children for LFS.
Dr. Simone Hettmer from Boston discussed Anaplastic Rhabdomyosarcoma and p53.
Jenn Perry, President of LFSA discussed how LFSA was formed after the 2010 conference
Dr. Rob Lufkin, LFSA Medical Advisor and LiFe Consortium member spoke about the collaboration of the two organizations and plans for the future as well as the importance of working with and for patients towards new and preventative strategies for treatment of individuals with LFS.
Part Two-Webcast
Center Updates
Dr. Maria Isabel Achatz and Dr. Patricia Polla from Brazil spoke about the unique R337H mutation there.
Dr. Louise Strong from MDAnderson gave an LFS primer
Dr. Jeffrey Weitzel from City of Hope, CA discussed possibiliteis for a Hereditary Cancer Registry
Dr. Wen-Yi Wang from Houston talked about using software to predict probablilty of p53 carriers
Dr. Phuong Mai from NIH  reported on the status of the LFS Study with mentions to diet and exercise.
Dr. Emma Killick from the UK talked about the SIGNIFY study there and use of whole body MRI
Dr. David Malkin from Toronto discussed precision medicine and linking types of mutations to screening.
Dr.Joshua Schiffman from Huntsman clinic delighted the audience with an engaging tale of elephants- their 23 copies of p53 and how they don't get cancer.  Using funds supplied by Soccer for Hope they are working on finding links to help p53 families.
Dr. David Thomas from Peter Maccullum Cancer Center talked about the International Sarcoma Kindred Study and patterns of genetic risk with sarcomas
Dr. Yukiko Tsunematsu from Japan discusses incidence of p53 in Japan along with a cohort of liver tumors and bone cancers.
Part Three-Webcast
Living with LFS
Fireside Chat -Patient Stories John Berkeley and Ann Ramer
QnA with Judy Garber and David Malkin- Hot topics raised about Mosaicism,
Part Four-Webcast
Jenn Perry and Susan Faulkner discussed LFSA and You
How to Fundraise/ Contribute to LFSA
The session ended with LFSA Family Support Chair Bonita Kline and Georgia Engebretson leading the group in some LFS specific introspective healing and support.
The conference was sponsored by Dana Farber, who provided the meeting space refreshments and a wonderful lunch. The LiFE consortium, a group of researchers that organized to collaborate after the LFS conference in 2010 provided presenters and up to date information. Myriad Genetics, the company who provides testing for hereditary cancers like BRCA has become the official sponsor of LFSA, providing dinner and printed materials.
The 2013 LFS Conference was a success because it brought together patients, researchers and clinicians who all have a vested interest in Li Fraumeni Syndrome and p53. If we all work together, we can have a positive impact and lessen the devastation of this disease. But most importantly it gave so many of us a chance to meet in person, share stories and hugs and feel not so alone in this world of Living LFS.
Resources:
Li Fraumeni Syndrome Conference
Lfsassociation.org