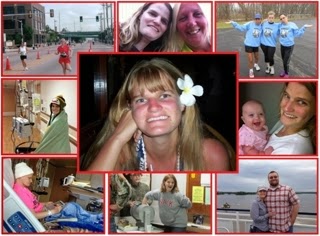 Jessica Wallace Sergeant is an inspiration to the LFS community and anyone who knew her. Although LFS took this beautiful woman at the age of 32,  the 32 years she had meant the world to those who love her and in Jess's own words, were "totally worth it".
On September 12, 1981, Jessica Jane Wallace was born in Walnut, Illinois. She loved being active with her brother and sisters. So many of her fondest memories surrounded family time- a swim in the Walnut pool, playing at her grandpa Rodger's farm and hunting pennies at family reunions. In 2006, she married the love of her life, James Sergeant and started on another adventure.
In 2007, at a time when most newlyweds are just starting to get into a routine,  Jessica was diagnosed with bone cancer in her jaw. In order to reconstruct, doctors used a bone from her leg.  In 2009, Jessica went to a college night at Saulk and noticed an Athletics booth. Jess figured they would only allow 18 or 19 year old to join the Cross Country team and she was 28, but it appealed to her- so she called the coach. Not only was she able to join the Rock River Road Runners, she was an important, inspirational member of their nationally qualifying team.  Even when she had to have half of her lung removed, due to yet another cancer, she kept going saying,"I just go out and do what I love to do". She kept running. Running got her through many tough times, despite countless challenges until 2013 when a new osteosarcoma in her hip made it impossible for her to keep doing what she loved. She always was ready for " Plan B-Z" in case plan A fell though. She continually supported others and the fight against cancer in many fundraisers such as Relay for Life. On November 1, 1013- Jessica started a new relay- running with the angels as her time here on earth ended. Today her family and friends gather to share memories and celebrate her life in the very town she born, Walnut, Illinois.

Jessica was an inspirational member of the Li Fraumeni Syndrome support group. Although she did not share a lot of information publicly, she was there with kind words and support and cultivated many mutant friendships outside of the forum. We learned so much about her. We knew how she loved running and that not being able to run was very tough for her. Jessica loved her family more than anything- spending time with her nephews and nieces was priceless and she always felt her grandparents watched over her as guardian angels. Jessica absolutely adored her "furbabies" Jasper, Paws and muffin. The kitties kept her warm, sat by her side and kept her entertained through many tough surgical recoveries. "My furbabies love me. Cancer or not, bald or not, LFS or not, wheelchair or not. That's what's great about furbabies- they'll love you no matter what!"
Her advice to the LFS community was that every patient should be "treated with and oncologist who has an LFS patient... never wait and rescan down the road for any kind of abnormality that shows up in tests, just to see how much it changes in a certain amount of time! Our cancer does not wait for us to be ready for treatment. It must be dealt with immediately. "
Cara, a fellow mutant and resident of Iowa had the honor of getting to know Jessica.  She says Jessica "loved life and was always really positive even when I couldn't find anything to be positive about.  Even though I don't think she realized it, Jessica kept me fighting and she made me a better person just to get to be her friend.  Jess always always always said to me "I've got to keep fighting and keep surviving until there's a cure for this LFS."
Jessica will be greatly missed, by her family, her friends, her furbabies and by us. We are honored she was part of our group and will feel her angel wings running along with us as we keep fighting and searching for the cure for LFS.
Articles about Jessica:
Sergeant an Inspiration to Sauk Valley Cross Country Team

Sergeant Won the Race of Life