Living LFS kicked off Li-Fraumeni Syndrome Awareness Month in Washington DC at the EveryLife Foundation's annual
Rare Disease Week on Capitol Hill
#RareDC2023 Feb 28 – March 2. Thanks to Living LFS members Lon Humpert (Kansas) and Nicole Scoubes (Utah), as well as Debbie Soprano and Kathleen Higgins from LFSA, for advocating for the entire Li-Fraumeni syndrome community before their state Congress members!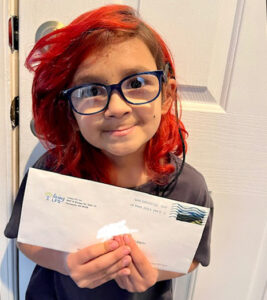 Living LFS awarded $38,000 in LFS Hardship Grants to families and individuals in need on March 20th, Li-Fraumeni Syndrome Awareness Day!
We pledged just ten $1,000 grants, but thanks to the incredible support of our community, we were able to provide grants for all 38 people who applied!
Special thanks to our generous anonymous donor, who provided $1,000 grants directly to 11 families with children with LFS this year. Since Li-Fraumeni Syndrome Awareness Month was established in 2021, this donor has given $31,660 to LFS families in need, and we couldn't be more grateful 💙

Heartfelt thanks to Barb and Craig Kirkpatrick for donating $5,000 toward LFS Hardship Grants for their third year in a row

Our gratitude to the

Addie Brady Foundation

for funding five $1,000 grants this year, giving a total of $11,660 since 2022 

Thank you to all those who wished happy birthday this year to Living LFS board members

Greg Harper

(March 19) and

Inge Vandormael

(March 23) by donating nearly $8,000 combined to their Facebook birthday fundraisers for LFS Hardship Grants!

And thanks to every single donor, who contributes anything from $5.30 to $5,300, for making it possible for Living LFS to provide

LFS Hardship Grants

twice a year to those with LFS who really need the help!
LFS community members and organizations raised awareness of LFS by sharing their LFS stories, videos and photos in local news media, across social media, and on the Living LFS website throughout the March Li-Fraumeni Syndrome Awareness Month activities.
Many thanks to
Lainie Jones
for sharing her LFS experiences in her appearance on
Wake Up With Marci
, and on her
social
media
. Thanks also for the sharing from
Kate
, 
Nancy, Elle,
Erik
,
Bianca
,
Brynn & Sarah
,
Hal
, 
Jennifer
,
Cayanna &
Tamila
,
Jocelyn
and her husband,
the Lehman family, Josie
,
Benji
, 
LFSA France
, Jen Mallory's uncle
Tom Connolly
, and Living LFS founding member
Ann Ramer
, who received local coverage for her state-level advocacy for childhood cancer cures. 
And thank you to everyone else who spread the word about Li-Fraumeni Syndrome during March LFS Awareness Month! 
Also during LFS Awareness Month,
Dr. Shekinah Elmore
, a radiation oncologist with a
TP53
mutation, shared how her personal experiences with cancer and LFS shaped her commitment to empathy and equity in medicine on the first episode of the New England Journal of Medicine's new podcast, "Not Otherwise Specified."
Listen here.
Thanks to Kathleen and James Higgins for providing three copies of Jamie's new book,
Since You Asked: My Anecdotal Life
to the Living LFS community during Li-Fraumeni Syndrome Awareness Month. The books were given to members in the private
LFS Support Group
on Facebook who gave the most popular answers to the prompt, "You know you have LFS if…" The chosen answers were:
"Cancer" is the first thing that pops into your mind for every stinking body ache or pain." Julie submitted this most relatable quote
"A friend describes a basal cell cancer removal as if he was waterboarded and you envision a knee scrape" Tom putting things into perspective
"When you horrify people with your cancer jokes" Edward shows that sometimes you just have to laugh
Honorable Mentions:
Taylor: When you get a new doctor and have to spend half an hour going through your very depressing family history. And spend the next half hour explaining LFS
Linda: When your sarcoma oncologist greets you " So great to see you. You are the longest-living person I have seen with this!"
Jo: When "Brazilian" as a descriptor means something very different
Lisanne: When you share your best colonoscopy-life-hacks to your brother
And finally, the Living LFS community came together for our annual
online gathering on LFS Awareness Day March 20
. In the early session, we marked the 47th birth anniversary of Living LFS founder
Jennifer Mallory
, shared heartfelt stories, played a rousing game of LFS trivia, and participated in a Q&A. Later in the day, genetic counselors Carly Grant (Massachusetts General) and Living LFS Medical Advisory Chair
Jaclyn Schienda
(Dana-Farber) gave an informative presentation on the
LFS Spectrum: Different Presentations of TP53 Variants and Mosaics
. Following the presentation, Jackie and Carly answered attendee questions.
Watch the videos
. Our deep thanks to Bill and Eleanor Wilson, new members of the LFS community who attended both LFS Awareness Day sessions, then generously donated $2,000 to October 2023 LFS Hardship Grants.
The positive impact all of us in the LFS family have on one another is immeasurable.
Thank you all once again for a banner March – our third annual Li-Fraumeni Syndrome Awareness Month! And for making March 20th LFS Awareness Day so successful and so beneficial to the LFS community. See you next year!